Dependent on your volumes being consigned, dangerous goods may be transported in sea vessels, tanks, cylinders, or packages, so when transporting dangerous goods, you must know the correct classification of your goods and what quantity limits may apply. This will help you determine the correct packaging, labelling and documentation that is required for the different modes of transport.
What are dangerous goods?
Dangerous goods are substances and articles that when transported are a risk to health, safety, property, or the environment, and are prohibited for international transportation unless certain conditions are met.
The United Nations (UN) has established a universal system for the classification and transport of dangerous goods, which form the basis of most regional, national, and international model regulation and stipulates how they must be packaged, marked, and labelled to help facilitate their safe transport. There are
9 classes of dangerous goods
, some of which have sub-classes, and can be solids, liquids or gases and are classified according to their properties, e.g., explosive, flammable, toxic, corrosive etc.
The substance is tested to determine the hazards that they process, and once this has been determined, the substance or article is allocated a UN Number, a Proper Shipping Name, and in some instances, a Packing Group which is a level of danger. This information is mandatory on dangerous goods transport documentation.
Packaging and labelling
Compliant, placarding, marking and labelling helps ensure that dangerous goods are handled appropriately, and dangerous goods segregation rules are complied with. If your dangerous goods are being transported in packages, then in most instances, they must be packed in UN Approved packaging and marked and labelled in compliance of the modes of transport being used. The regulations require that packaging must meet or exceed minimum standards of performance before it can be authorised for the dangerous goods transport.
Regulations for the transport of dangerous goods
There are a myriad of National and International regulations governing the handling of dangerous goods, but they all originate from the UN Recommendations on the Transport of Dangerous Goods - Model Regulations which facilitate compatibility between modal requirements so that a consignment may be transported by more than one mode without intermediate reclassification, marking, labeling, or repackaging.
The rules for carriage of dangerous goods depend on the specific mode of transport that is being used.

Training of persons involved in the carriage of dangerous goods
The model regulations specifies that any person that is employed by the main participants (consignor, carrier, or consignee) whose duties concern the transport of dangerous goods, shall receive training in the requirements governing the transport of such goods commensurate to their responsibilities and duties. This includes third party service providers that you may use. The training must be completed before taking on responsibilities concerning dangerous goods, unless there is constant supervision by someone who is trained and competent (this is not permissable for air freight).

Some people must receive specialist training, e.g., drivers carrying dangerous goods and Dangerous Goods Safety Advisors (DGSA's). Everyone else must receive periodic and refresher:
General Awareness Training – Familiar with the general requirements.
Function Specific Training – Commensurate directly with their duties and their responsibilities, including multimodal transport operations.
Safety Training – Commensurate with the degree of risk of injury or exposure arising from an incident involving the transport of dangerous goods.
Security Awareness Training - Shall include recognising security risks, methods to address and reduce such risks and actions to be taken in the event of a security breach.
This may include any person that:
Drives a cargo transport unit that is carrying dangerous goods
All other crew members of a cargo transport unit that is carrying dangerous goods
Loads and unloads cargo transport units
Prepares and packs dangerous goods for transport
Fills tanks with dangerous goods
Prepares or controls dangerous goods transport documentation
Please be aware, some international regions require that you have or use the services of a DGSA if your activities include the consigning, the carriage of dangerous goods or related packing, loading, filling or unloading of dangerous goods. The DGSA is responsible for helping to prevent risks from such activities with regards to people, property, and the environment.
Check to ensure that your goods can be compliantly carried by all modes of transport and how, especially when planning multimodal transport, e.g., to and from seaports or airports by road, rail or inland waterways.

Quantity limits
Many everyday consumers goods, for example cosmetics (perfume), detergents, dyes and paints may be classified as "dangerous" or "hazardous" and when transported, specific packaging must be used, and maximum net volumes must not be exceeded. It is however permissible to transport dangerous goods that are packed in small packages without the full scope of the dangerous goods regulations being applicable. Within each of the dangerous goods model regulations, maximum limited and excepted quantity thresholds are identified and unless these volumes are exceeded, the limited and excepted quantity rules may be applied. The maximum limited and excepted quantity thresholds are shown within the model regulation dangerous goods lists. Where 0 and E0 is shown in the limited quantity and the excepted quantity columns, it is not permissible to apply the limited and excepted quantity rules, and the full dangerous goods model regulations must be applied.

Dangerous goods packed as limited and excepted quantities must always be packed and transported in combination packages (shrink wrapped or stretch wrapped trays are permissible only for dangerous goods packed as limited quantities).
Check that you have all the proper documents in place when transporting dangerous goods. To aid a smooth process in the destination country, consider involving the consignee by providing all relevant information so that they can coordinate with local agencies to ensure national regulations are complied with.
Documentation and paperwork
Having the correctly completed documentation is vitally important when transporting dangerous goods. Missing documents or non-compliantly completed documentation can cause transport delays, and in some instances, a serious safety incident. Unless otherwise specified, when transporting dangerous goods by all modes of transport, it is a legal requirement that a Dangerous Goods Note / Declaration (DGN / DGD) accompanies the shipment of dangerous goods. The person responsible for completing and signing the DGN / DGD must have completed the appropriate training.

Other documentation may include:
Safety Data Sheet (SDS) – provided by the Manufacturer of the dangerous good
Commercial invoice
Shipper's letter of instruction
Certificate of origin
Freight forwarders and logistics providers can assist with the transport of dangerous goods. They have trained personnel and the benefit of practical knowledge and experience. They can build on their good relations with airlines and shipping lines and are able to secure priority space for dangerous shipments. However, it is ultimately the customer who holds legal liability, so be sure that your documentation is compliant and that you comply with all laws and regulations when shipping dangerous goods.
EXPERT OPINION
Incoterms® and insurance needs
Understanding liability and responsibilities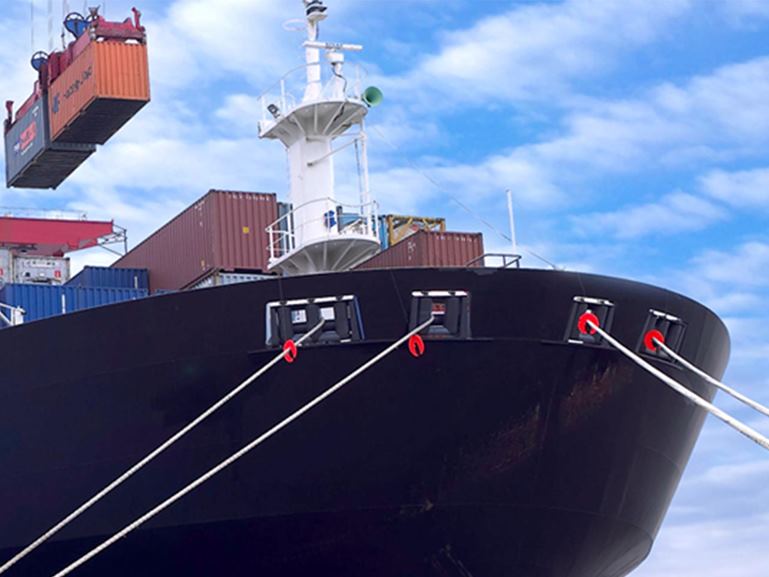 You may also be interested in
Read about the transport of dangerous goods by air

Read about the transport of dangerous goods by sea

Learn more about transporting dangerous goods by road
Any questions?
Our teams are ready for you. Contact us.